BAGH, Pakistan - As NATO troops hefted stones and hauled sand to shore up a mountain road damaged by a killer earthquake, the NATO commander looked at the rocky cliff looming overhead and worried about landslides.
"This is going to slip again when the heavy rains come, because the damage is there," said Air Commodore Andrew Walton, leader of a NATO mission that has brought military engineers, medical personnel and planeloads of aid to Pakistan.
Created to fight the Cold War in Europe, the military alliance is now battling cold, wet weather deep in Asia — struggling to clear roads, repair schools and bring relief to earthquake survivors who face a deadly new threat with the onset of the Himalayan winter.
Speaking to staff members at a NATO field hospital in the hard-hit northern town of Bagh this week, Walton laid out the mission in a nutshell: "To get the population through the winter."
Dozens of people waited on benches outside, shivering as the sky darkened and rain fell.
Nasreen Padhi said she traveled four hours with her ailing 5-year-old daughter as there were no medical facilities near the tent where she has lived since the Oct. 8 quake, which killed more than 87,000 people and left over 3 million homeless.
NATO's contribution to earthquake relief is part of a makeover that has taken the alliance far from its headquarters in Belgium, and far from its initial mandate to protect Western Europe from the Soviet threat.
"NATO is not, and does not aspire to be, a humanitarian relief agency," Walton's NATO Disaster Relief Team in Pakistan said in a statement. "But given the magnitude of this disaster ... the Alliance is doing what it can as part of the relief effort."
NATO has flown more than 2,600 tons of aid from Europe — including thousands of tents, blankets and stoves — and carried supplies by helicopter from Pakistan's capital, Islamabad, to the quake zone in the north.
The Spanish-commanded engineering battalion has been repairing roads, schools and medical facilities in the Bagh district. Staff from the Dutch-led field hospital have treated more than 3,000 patients, making hundreds of house calls to remote areas.
NATO has been involved in humanitarian operations before, such as helping Kosovo refugees in 1999. But that was related to a military conflict — and it was in Europe.
The Pakistan deployment is only the second time the new NATO Response Force, which is not due to reach full operational capacity until mid-2006, has been involved in such a relief effort. The first was after Hurricane Katrina.
The force was formed as part of an effort to adapt NATO to challenges such as regional crises, rogue states and terrorism. Last year, it helped protect the Afghan presidential election and the Athens Olympics.
When Hurricane Katrina struck the U.S. Gulf Coast, it airlifted European aid to the United States. "But this mission goes much further. We're delivering engineering and medical capability on a scale that we haven't done before," Walton said.
Pakistan's Foreign Ministry said Thursday that NATO flights constituted "the largest single contribution to the relief airlift," and Foreign Secretary Riaz Mohammad Khan called NATO's help "timely and substantial."
But the praise came with a statement that NATO will wrap up its earthquake relief operations when its 90-day mandate expires in January. Pakistan's government, which requested NATO's help, will not ask it to stay.
That decision may reflect squeamishness about the presence of the Western military alliance, which has been a lightning rod for criticism from opponents of President Gen. Pervez Musharraf.
The decades-old dispute with India over divided Kasmir makes questions of sovereignty and control particularly prickly in Pakistan, and Musharraf is already facing the ire of Islamic militants over his vocal support for the U.S. war on terror.
Musharraf lashed out at critics of the NATO presence last month, and Walton repeatedly stressed the Disaster Relief Team was acting in strict accordance with the desires of Pakistan's military.
"We are here for a short-term mission. We are not here for the long haul," Walton said. "We are not here to do long-term reconstruction, which is rightly the responsibility of the host nation — the sovereign nation."

YOGYAKARTA, Indonesia (Reuters) - A dawn earthquake killed more than 3,000 people around the Indonesian city of Yogyakarta on Saturday, burying many under the rubble of their homes in a scene survivors said was like the end of the world.


MAY28th
By Achmad Sukarsono and Lewa Pardomuan Sun May 28, 11:55 AM ET

BANTUL, Indonesia (Reuters) - Rescue workers dug frantically for survivors on Sunday and hospitals struggled to cope with the thousands of injured, a day after an earthquake killed more than 4,600 people on Indonesia's Java island.
http://news.yahoo.com/s/nm/20060528/sc_nm/quake_indonesia_dc_36


MAY 29th

The Indonesian government has declared a three-month state emergency following the devastating earthquake on the island of Java.
The death toll has risen to around 4,380, while thousands were being treated in hospitals.
Countries around the world have pledged millions of dollars, tonnes of supplies and hundreds of personnel.
http://uk.news.yahoo.com/29052006/356/indonesia-declares-state-emergency.html

---
AUGUST 16th 2007
Pisco, Peru, midway between Ica and Lima, is 90 miles from a Force 8 offshore Earthquake. 400 at least dead, the town destroyed, some buildings also damaged in Lima. A Tsunami expected but no sign so far. Statisically not unexpected, but of course not predictable for the place itself. There have been aftershocks.

Peru earthquake: death toll rises
ITN
The death toll from a powerful earthquake in Peru is now at least 437 with more than 1,300 injured.
The quake, which measured 7.9 on the Richter scale, knocked down thousands of buildings south of the capital, Lima.
Several strong aftershocks followed and witnesses said homes have collapsed and telephone services have been knocked out.
Authorities said the quake generated a tsunami of undetermined size but later cancelled a warning issued for coasts from Chile to Mexico.
Peru's president Alan Garcia Perez gave a nationwide address on television saying that the death toll was reasonably low but added that some areas of the country had been severely damaged by the earthquake.
He said: "In Canete, Chincha and Ica the initial reports say there are people missing and wounded: their number is not yet clear but possibly exceeds 70."
One Lima resident said she felt the earthquake while she was seated inside a taxi.
"The car was vibrating, and you could see all the buildings here in San Isidro and the glass vibrating. People were running, all the passers-by were grabbing their mobile phones. They wanted to call home but they could not. No one could get through on my phone line either," she said.
---

OCTOBER 2009
The 'Ring of Fire' is active as usual. Over 1000 dead, many thousand missing
http://news.yahoo.com/s/ap/20091001/ap_on_re_as/as_indonesia_earthquake
http://www.prh.noaa.gov/ptwc/

---

JANUARY 12th 2010

Haiti devastated by massive earthquake
Magnitude 7+ and aftershocks. Accessibility difficult and civil security shaky.
http://news.bbc.co.uk/1/hi/world/americas/8455629.stm
---
A stirring message of support emanated from President Obama to promise US aid to Haiti, but once again his choice of words was perfect until one of them jarred. He described the earthquake as 'incomprehensible'. It was an EARTHQUAKE, Mr President. Which part of that word did you not understand?
A planet cabable of generating life and humanity will be a planet that is a dynamic, living planet. It will have stages of development which will be violent. When it reaches the calmer stage we are at now it will still be dynamic and the vital movements that essential to all the processes that have made life possible and support it now will cause earthquakes in places and other changes as well. Humans have to adjust to the changing envronment by either controlling it where they are, or inhabiting places where the envrionmental is less hostile. Absolute safety cannot be guaranteed anywhere. Low lying areas can flood, high ground can be cold, fault lines can suffer earthquakes, droughts can occur.
The President also described the damage in Haiti as 'unmaginable'. I would have thought the reverse was true. I do not suggest that all the inhabitants of Haiti could or should have expected it yesterday, but how could it be described as unimaginable and incomprehensible?
I suggest, Mr President, you remind the citizens of San Francisco and its environs that they are living in a place far more likely to have an earthquake, quite soon. It will not be incomprehensible or unimaginable.
---
JANUARY 16th 2010
Following on from President Obama's strange remark that the Earthquake on Haiti was 'incomprehensible' we had some rather poor quality comments on the BBC's TODAY programme from Christian clerics who claimed to have their faith in a benevolent creator God either undimmed or even strengthened, while giving no good reason.

So Jim Naughtie wheeled on humanist A C Grayling to see if he could do any better. In some ways he did, but only because the churchmen had performed so poorly.

The heart of the teaching of Jesus is the mortality of humans, including himself. He expected to die on the cross to prove the point and indeed the only time he raised his voice in complained was when his death was agonizingly prolonged. In a moment of doubt he thought nature had failed him, before saying in great relief: "It is finished".

A world without the possibilities that ours affords could make no sense to humans such as we are. Those possibilities include the pleasures and pain we and others have witnessed and felt. They are neither limitless or arbitrarily limited. The intensity with which they can be appreciated depends entirely on the sensitivity we can achieve and bear. In short, they are subjective.

Jesus was the first humanist and made this so abundantly clear that only those with some mental blockage can fail to understand it. As for Grayling, who thinks that most people take the creation story of Genesis as literal, I invite him to imagine the wise people who first told it and wrote it. They certainly knew it was not literal, as they had invented it. It was a story to instruct, telling that the world we see took time to take the form it has, and that our ancestors did not make it, but it had made our ancestors. No educated person thinks it is a scientific description but most think it was an inspired and brilliant synopsis to stand till further details are revealed over time.

Education is not available to all, so a simple metaphorical tale can still serve those who are deprived of it, but Grayling and Christian clerics really have no excuse for their abysmal performance. Nor for that matter does Jim Al-Khalili for assuming that the self-organising of chaotic systems explains the existence, as opposed to the properties, of space-time, mass/energy and universal gravitation. These things are not beyond comprehension, just beyond the comprehension of most people at this time.

As for the benevolence of God, the benevolence of humanity has been achieved at some cost since all knowledge comes from experience. Had it been been unnecessary, then we could have some reason to doubt the methodology. As things stand, it's looking quite good for God.

---
JANUARY 17th 2010 - HAITI

The international response, especially from the USA, has been immediate and spectacular. There is no shortage of finance, resources or readiness. However I refer readers to the opening paragraphs of this web file, written in October 2005. In the case of Haiti, no assistance should have been expected in the immediate aftermath as all local government and resident UN presence was effectively destroyed. This has not stopped some media commentators suggesting that 'more could have been done'. This is not the case. If people are going to live on an island (even a quite large one) where a major earthquake is a near certainty, in buidings that are likely to be destroyed, wthout a carefully distributed and protected emergency system to step in as required, then they should live there in carefully limited numbers in a well managed, self sufficient society.

The modern trend to introduce the technical and social veneer of advanced nations to essentially primitive societies who are not at a stage to realise the associated limitations, responsibilities and conditions is likely to produce more anomalous and unstable situations world-wide as time progresses, with opposite results to those intended. In this way, simplistic moves to alleviate 'poverty' will result in more poverty, just as simplistic democracy can lead to tyranny.
I hope that the experience of Haiti, painful as it is, will serve as a lesson to the rest of the world. The basic premises on which our established pundits and political leaders of all parties base their comments, which they assume as common sense. are fatally flawed. I am glad to be able to say that, as if they were not flawed the future would be not only bleak but pointless and BORING.


---
JANUARY 18th 2010
The number killed in the Haitian Earthquake will not be known with certainty for for some time. 100,000 is one estimate. The important thing is the lesson which many of us have been trying to teach - that civilization hangs by a thread - is being demonstrated graphically. It hangs by. a thread in the advanced nations as well. A smalll snow fall in the UK caused panic buying and no bread or eggs in my local supermarket in a region where all roads remained easily passable for competent motorists. The breakdown of law and order in Haiti could come to any western city where communications and transport failed. It is worth noting that a large undamaged supermarket in Port-au-Prince was immediately locked and guarded. This was because there was no way to distribute even those food items that were perishable. I hope that now there is, these can be purchased by the UN and distributed rather than wasted, but probably there are no plans to handle such intelligent thinking.

There are some who now say nothing short of a full military occupation and martial law can stabilize the situation, others (some French) are already accusing the US of mounting an 'occupation'. All in all, one can say the that the general level of philosophical sophistication falls well short, in the political hierarchies of most western nations, of being up to the job of coping with this century without making big mistakes along the way. Never have I been so unsurprised and never more in admiration of those on the ground who are doing their best.

Bill Clinton has been about the best in trying to explain the immense difficulties while retaining hope for the future. As he says, it will depend on Haitians and the external help. If they can emulate the efforts made by some other places to recover after an earthquake, that alone will not do the trick as they were in such a mess even before it. They will have to rise to the occasion. The Clinton optimism and encouragement is vital, but hard truths remain. Haiti has got to become an attractive place to live if it is to have a decent future. I would add it will remain subject to earthquakes, though maybe less so for a bit now.


---
FEBRUARY 27th 2010
The earthquake today in Chile had an epicentre 60 miles out to sea and quite deep. That was just as well as it was five hundred times more violent that the one in Haiti. For this and many other reasons the loss of life is minor compared to Haiti. However it has caused a Tsunami which now threatens all Pacific coastlines. Fotunately there is some warning this time.
http://news.bbc.co.uk/1/hi/world/americas/8540289.stm

---
APRIL 15 2010
CHINA - The big earthquake in China in 2008 was not covered here, so see http://news.bbc.co.uk/1/hi/in_pictures/7396502.stm

This time it is in Qinghai province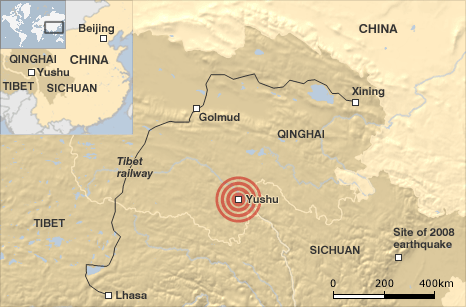 RECENT DEADLY QUAKES
Feb 2010: Magnitude 8.8 quake in central Chile kills at least 450
Jan 2010: About 230,000 die in magnitude 7.0 tremor in Haiti
April 2009: Quake measuring 6.3 in L'Aquila, Italy, kills 300 people
May 2008: 87,000 die in 7.8 scale tremor in Sichuan province, China
Oct 2005: Quake measuring 7.6 hits north Pakistan, killing 73,000

The latest China quake has killed about 1,000. Many thousands homeless. The remarkable peculiarity is that the site is at 13.000ft altitude, where unclimatised people will need oxygen to work, so the massive aid the Chinese govt is sending will find it hard to get there and hard to do much when they arrive

http://news.bbc.co.uk/1/hi/world/asia-pacific/8621278.stm

---
SEPTEMBER 4th 2010
A major earthquake in New Zealand resulted in no deaths at all, despite being centred near the city of Christchurch
http://www.bbc.co.uk/news/world-asia-pacific-11187166

---
OCTOBER 27th 2010
This one of 7.7 2 days ago in Indonesia caused a Tsunami and up to 500 deaths
http://www.bbc.co.uk/news/world-asia-pacific-11632982


---
FEBRUARY 21 2010
New Zealand again, and this time its serious.
http://www.bbc.co.uk/news/world-asia-pacific-12540345
Liquefaction is the probable cause of the unexpected collapse of many buildings. Try jumping on a sandy beach just after the tide has gone out to understand what happens. It was not the shock on the buildings that broke them but the destruction of the foundations.

---
MARCH 11th 2011
A really big earthquake of the north-east coast of Japan. Quake and Tsunami damage are extensive, great disruption of power and communications. Giant whirlpool formed out to sea which may curiously have reduced the effect of the tsunami travelling across the pacific with potential disastrous risk to low islands. After-shocks incalculable at the moment (01 pm). In spite of the damage, real-time and later films of the earthquake are available all the time. Extraordinary. Japan is always ready even though it cannot protect itself.
http://www.bbc.co.uk/news/world-asia-pacific-12709598

1:45pm I have just seen a major explosion at a petrochemical plant and there is news that cooling has failed at a nuclear reactor. This is bad.
The remarkable extent of the fires is what is most puzzling, not all connected with the petrochemical plant explosion. Fires are burning over huge areas.

3:40pm - There is news a dam has burst.

The earthquake knocked out power at the Fukushima Daiichi plant, and because a backup generator failed, the cooling system was unable to supply water to cool the 460-megawatt No. 1 reactor. Although a backup cooling system is being used, Japan's nuclear safety agency said pressure inside the reactor had risen to 1.5 times the level considered normal.

All I can say is there had better be a bloody good reason why the back up generator failed and could not be fixed right away. Such generators should be test-run regularly in a country where earthquakes are INEVITABLE!!!
The death toll so far - due to the tsunami most of all - is 1,000
http://news.yahoo.com/s/afp/20110311/wl_afp/japanquake
---
MARCH 12th 2011
There has now (11amBST) been an explosion at the nuclear plant where the cooling problem noted above occurred. Looks like some water heated to extreme temp/pressure dissassociated to Hydrogen and Oxygen and recombined explosively. At the very least this risks some radiation escaping from the plant at unacceptable levels. The failure of the standby generator is unacceptable and calls into question the qualifications of the managers of these facilities. However, we are told the reactor container itself has not been breached and there is no rise in radiation outside as result of the explosion.

The total death toll is likelty to be many thousands in my opinion.

---
MARCH 13th 2011
I must admit I am staggered by the unpreparedness of the Japanese nuclear plants to deal with emergencies. It blows a hole in all the claims of safety for these reactors.
http://uk.news.yahoo.com/5/20110312/twl-japan-tremor-follows-blast-at-nuclea-3fd0ae9.html

---
MARCH 15th 2011
It should be pointed out these nuclear plants were designed in the 1960s. It appears that the standby generator was placed too near the sea level, allowing for only a 6 metre tsunami on the grounds that there had never been a higher one recorded. I must say this reliance on past experience has really got to be dumped when to comes to the design of nuclear facilities. We are talking about the FUTURE, guys! Nothing stays the same in Nature, and we are moving faster than Nature and even driving it to change. HELLO____!

Now it must also be said that many improvements have been made to the safety and fail-safe methods in newer reactors.
Meantime we should salute the efforts of the Japanese, people and government, do handle the problem on hand. They will win through. In spite of the latest news.
http://www.bbc.co.uk/news/world-12740843
Readers should bear in mind this sobering truth: the problems the Japanese face right now could not have been avoided by not building nuclear power stations. The problem for Japan today is a shortage of electrical power. This can bring the nation to its knees, not the radiation risks or even deaths. Death is not the problem, as I keep trying to explain all over this web site. Life is the problem of we cannot handle it, and right now we are not doing well at all. There are too many of us, needing too much energy of all kinds, and incapable of controlling our behaviour. We are told by horrified reporters that the death tool from Chernobyl might evenlually be 4,000 - shock horror. Sorry, but your point is? The are billions too many of us on this planet.

---

MARCH 16th 2011
My limited optimism that the nuclear situation in Japan was coming under control is badly dented today. It is not going well. Japan now faces huge problems, greater than I had imagined.
http://www.bbc.co.uk/news/world-asia-pacific-12755739

---
MARCH 17th 2011
There is now a serious crisis - so, all hands to the pump. The US Navy are bringing pumps (I mean PUMPS, guys!) and the Japonese have got some electric power on site. It is now clear that between them the Japanese Power Company running the plants, the designers and manufacturers, the Japanese Government and the IAEA had beween them completely dropped the ball. They had failed to upgrade the safety on these sites that have ACTIVE safety procedures, not passive as in modern plants. Safety was dependent on a diesel electric backup that was neither duplicated or protected adequately from a tsunnami, or a plabe crash come to that, or sabotage or mechanical failure. NUL POINTS, guys.

---
MARCH 18th 2011
Approaching the Chernobyl problem level, though not in degree. If it gets much worse. they will have to abandon and encase the whole mess in concrete.
http://www.bbc.co.uk/news/world-12783832
None of this should delay new nuclear plant being built. It should certainly make current operators of plant without passive safety ayatems to make sure their old active safety systems are duplicated and bomb-proof. I am sorry that the Japanese, of all people, should be paying the cost of this valuable lesson. Their efforts to contain the danger, if not allways immediately the best, were the best they could do given the awful circumstances and now they are risking their lives to save a spread of the danger.

March 19th 2011
http://uk.news.yahoo.com/22/20110318/tts-uk-japan-quake-ca02f96.html

---
MARCH 21st 2011
Japan nuclear crisis 'will be overcome', says IAEA
http://www.bbc.co.uk/news/world-asia-pacific-12809832

MARCH 23rd 2011
But there is a long way to go, radiation alerts are growing. Even though the levels are very low they are spreading. And a big earthquake which could hit Tokyo would now come on top of all thes troubles.
http://www.bbc.co.uk/news/science-environment-12792943

MARCH 27th 2011
Radioactive iodine is being found in the sea-water near the site. It's half life is short, but the problem is still finding out where the leaks are coming from. I assume from water escaping from the cooling process. There is also radioactive caesium in the sea and that has nearer a 30-year half-life.
http://www.bbc.co.uk/news/world-asia-pacific-12872707

MARCH 30th 2011
Japan is to decommission four stricken reactors at the quake-hit Fukushima nuclear plant, the operator says.
Tokyo Electric Power (Tepco) made the announcement three weeks after failing to bring reactors 1 - 4 under control. Locals would be consulted on reactors 5 and 6 which were shut down safely.
http://www.bbc.co.uk/news/world-asia-pacific-12903725

---
APRIL 19th 2011
It is going to take a year to wrap this catastrophe up.
http://www.bbc.co.uk/news/world-asia-pacific-13127728

---
JUNE 19th 2011
Some Japanese nuclear experts have volunteered to help with work on the damaged site, knowing that their life expectancy due to their age is less than the time it would take any cumulative radiation to shorten it further. They are to be applauded.

Here is a useful summary of the factors surrounding the vulnerability of the plants to the eathquake and tsunami:
http://science.howstuffworks.com/japan-nuclear-crisis.htm

---
AUGUST 18th 2011
The revelations now emerging on the Fukushima problems throw a new light on the vulnerability of the plant.
energy.htm#fukushima
http://www.independent.co.uk/news/world/asia/the-explosive-truth-behind-fukushimas-meltdown-2338819.html
---
OCTOBER 24th 2011

Rescue teams in Turkey are continuing to search for people trapped under rubble after a strong earthquake hit the eastern Van region on Sunday.
Some 265 people died and 1,140 were injured in the 7.2 magnitude quake, according to Interior Minister Idris Naim Sahin.
http://www.bbc.co.uk/news/world-europe-15425268
---
nnnn